Steward Health Care Supports the Scott's Firefighter Combat Challenge in Utah Sept. 6 & 7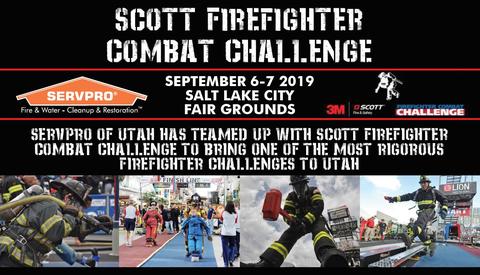 STEWARD HEALTH CARE SUPPORTS THE SCOTT'S FIREFIGHTER COMBAT CHALLENGE AS THE FIRE CHIEF LEVEL SPONSOR FOR UTAH'S EVENT
SANDY, UTAH – Two Steward Health Care hospitals, Mountain Point Medical Center and Davis Hospital and Medical Center, are proud to announce Fire Chief Level Sponsorship of the Scott's Firefighter Combat Challenge®, taking place Friday and Saturday, September 6-7, 2019, in the west parking lot at The Shops at South Town, Sandy, Utah.
"We are excited to have this opportunity to show our support for local firefighters," said Kent Loosle, President, Mountain Point Medical Center. "Emergency response crews are vital partners for our hospitals. The work they do on-site and in-transit significantly impacts patient outcomes every day. It's our pleasure to recognize their heroic efforts in the Scott's Firefighter Combat Challenge."
Often dubbed the "toughest two minutes in sports," this challenge showcases the talents and skills of firefighters from around the world. Firefighters will compete in the essential skills of
real-life firefighting, including climbing a five-story tower in full bunker gear, dragging and joisting a fire hose, rescuing a 175-lb. "victim," simulating forcible entry and racing around obstacles. This competition motivates, identifies, and celebrates the "Best of the Best" firefighters.
The event is sponsored by Servpro®. As Fire Chief Level Sponsor, the two Steward Health Care hospitals will host a Competitor Rehab Tent, where competing firefighters can cool down, rest, rehydrate, snack and relax during the competition. Additionally, the Steward Health Care Hospitals including Mountain Point Medical Center, Davis Hospital and Medical Center, Salt Lake Regional Medical Center, Jordan Valley Medical Center and the Jordan Valley Medical Center West Valley Campus are each sponsoring teams from their areas.
Established in 1992, this year marks the first Scott's Firefighter Combat Challenge held in Utah. Over 150 Utah firefighters will compete in individual, tandem, team, and relay competitions for the "Best in Utah" trophy. The events are free and open to the public.